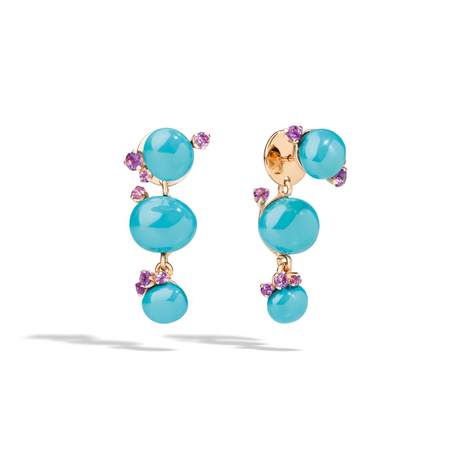 Earrings Capri
Inspired by the Mediterranean's crystal-clear water and luscious landscape, this pair of drop earrings strikingly contrasts small gems with turquoise ceramic teardrops.
EARRINGS IN ROSE GOLD, TURQUOISE CERAMIC AND AMETHYST CT 0.75
Variations
The Collection

Stone details

Stone details

Jewel Fitting

Style Match

You may also like
CERAMIC
The name comes from the Ancient Greek, kéramos, meaning clay: the primordial expression of prehistoric ceramics. Today, modern ceramics show great potential and require a high degree of technology and precision in order to be molded into different shapes and colors. Their hardness, resistance to high temperatures and environmental agents make them suitable for the production of high quality components, which is why they are gaining increasing popularity in the jewelry industry.