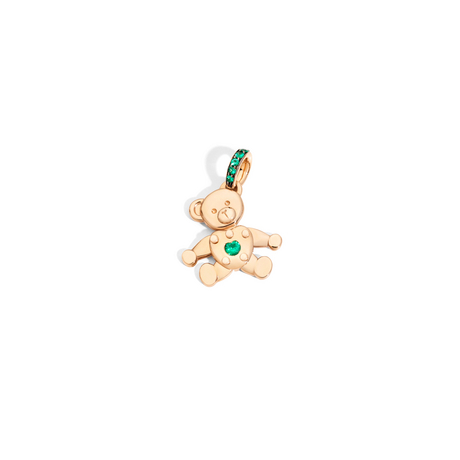 Pendant without chain Orsetto
LIMITED EDITION
As the mascot of the house, Pomellato celebrates Orsetto's 30th birthday a special edition for its collection of "jewels of the heart". Infused with an asymmetric Pomellato wink, he hangs from his chain by one ear and displays its tender side in its heart of precious emeralds.
18K rose gold pendant, 11 0.2 ct emeralds. Height: 1.9cm/.75 in. x Length: 1.7cm/.67 in.
Variations
The Collection

Stone details

Stone details

Jewel Fitting

Style Match

You may also like
BERYL
EMERALD
In its pure state beryl is colourless, although the addition of chemical elements allows for different varieties to come to life. One of the most famous is Emerald, whose name derives from the Semitic or Sanskrit word meaning 'Green'. While all shades of green are accepted, it is very difficult to find perfectly clear emeralds. Inclusions, however, are not necessarily regarded as flaws as they often mark the stone's authenticity.