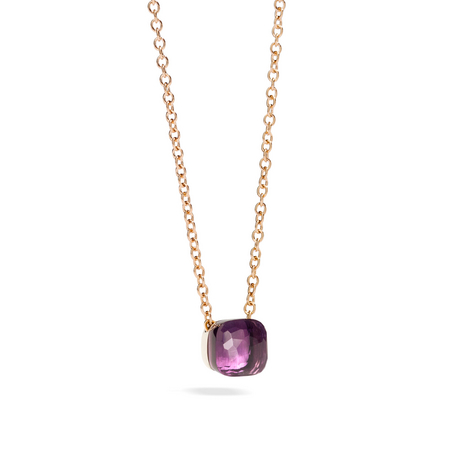 Pendant with chain Nudo
The chic minimalist style of Pomellato's iconic ring is embodied in this elegant pendant. It is characterized by the same "Nudo" stone, available in a range of stunning colors.
PENDANT NUDO PETIT WITH AMETHYST AND CHAIN IN ROSE GOLD
Variations
The Collection

Stone details

Stone details

Jewel Fitting

Style Match

You may also like
QUARTZ
AMETHYST
The word quartz is of Slavic origin and signifies hard. Quartz stones in general may be transparent, semi-transparentor opaque and may come in a variety of colors. In particular, amethyst presents a very wide colour spectrum. From deep or light violet through to pink, vibrant violet is considered the most valuable hue.