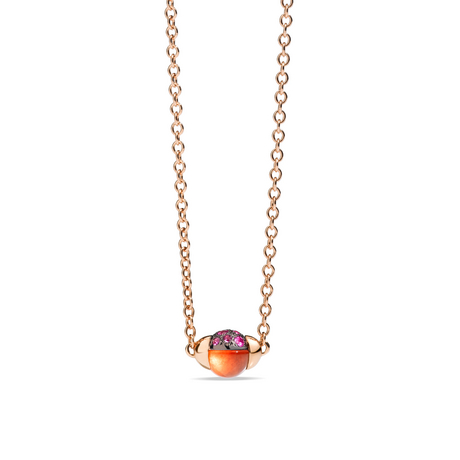 Pendant with chain m'ama non m'ama
A refined chain with a two-sided, colored gem with a monochrome surface on one side and a precious pavé on the other.
NECKLACE IN POLISHED AND BURNISHED ROSE GOLD WITH HESSONITE GARNET AND PINK SAPPHIRES (CT 0.18)
Variations
The Collection

Stone details

Stone details

Jewel Fitting

Style Match

You may also like
GARNET
Hessonite
The term garnet refers to a family of minerals that share the same crystal system and some of the same chemical formula. Composed of calcium silicate and aluminum, Hessonite Garnet is a yellow-brown color featuring shades of orange. Its shine is contrasted by the molasses-like interior, creating undulated and distorted transparencies and reflections typical of highly concentrated sugar solutions.