New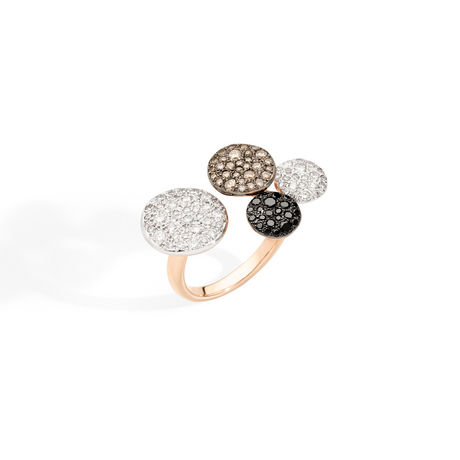 Ring Sabbia
Fashionably chic and stamped with Pomellato's unerring unconventional style, the new Sabbia jewels are a perfect fusion of traditional skills and on-trend design. The arrival of two new between-the-finger rings with mobile settings are a double first for Pomellato. Injecting Sabbia with a playful dynamism, diamonds come to life as each of the discs quiver with the slightest movement of the hand thanks to a mobile joint.
Ring in 18K rose gold and 111 white, brown and black treated diamonds (≈ 1.6 ct)
Variations
The Collection

Stone details

Stone details

Jewel Fitting

Style Match

You may also like
DIAMONDS
The word diamond originates from Greek and stands for unbreakable. Renown for their strength and scratch-resistant body, diamonds are formed in the Earth's mantle at elevated temperatures and high pressure. The 4C scale used to determine their quality considers cut, color, clarity and carat weight (with one carat corresponding to 0.20 grams).