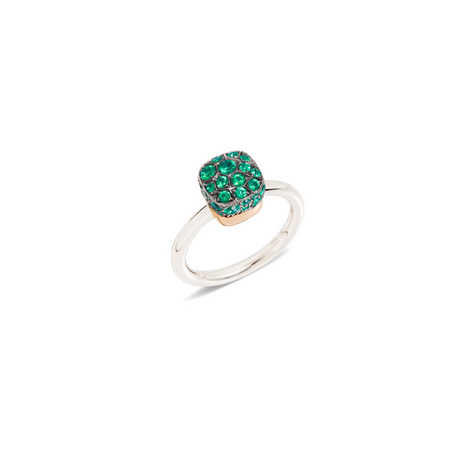 Ring Nudo
Interpreting the language of the fine jewelry world, Nudo Solitaire conveys the unique splendor of the 'one-and-only' through an original pavé of precious stones.
NUDO SOLITAIRE RING IN POLISHED AND BURNISHED ROSE GOLD AND WHITE GOLD WITH EMERALDS CT 0.74
Variations
The Collection

Stone details

Stone details

Jewel Fitting

Style Match

You may also like
BERYL
EMERALD
In its pure state beryl is colourless, although the addition of chemical elements allows for different varieties to come to life. One of the most famous is Emerald, whose name derives from the Semitic or Sanskrit word meaning 'Green'. While all shades of green are accepted, it is very difficult to find perfectly clear emeralds. Inclusions, however, are not necessarily regarded as flaws as they often mark the stone's authenticity.