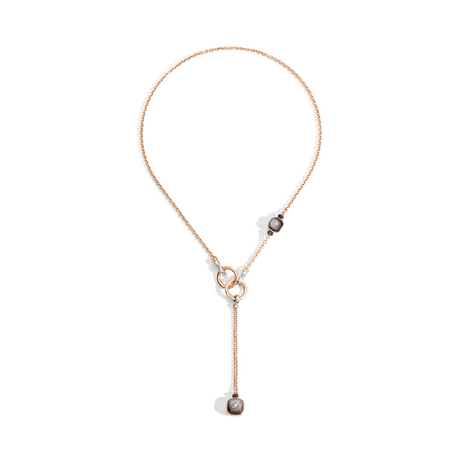 Necklace Nudo
NUDO sparkles in a brilliant sautoir design that may be worn in three different ways: a classic sautoir, a lariat pendant, or a double-wrap necklace. For the first time, NUDO's stones feature the "Clessidra" (Italian for "hourglass") double-face cut, leaving the gem more preciously nude than ever before.
Necklace with pendant in 18K rose and white gold, 2 obsidian 14 ct, 24 black diamonds treated 0.1 ct Length: cm 53
This item is available for purchase in our Boutiques.
Variations
The Collection

Stone details

Stone details

Jewel Fitting

Style Match

You may also like
OBSIDIAN

Obsidian is a natural glass formed by the cooling of volcanic lava.
From an aesthetic point of view, the stone is glossy and black or grey in colour. Its attractiveness is linked to its golden and silver iridescence, created by minute bubbles and dimples that reflect and refract light.