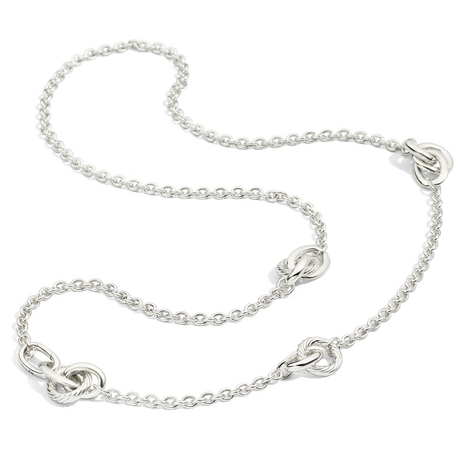 Necklace Argento
A thin, flowing chain connected by smooth and twisted interlocking links.
Pomellato 67 jewels are made using natural untreated silver, and the silver alloy used has a 925/1000 title.

Clean softly from time to time and place your jewel separately in individual soft and clean sachets or cases, in a dry place, away from heat sources and generally sheltered from any agents that could damage them

Preserve your silver jewels by using specific silver cleaning products, as long as they are not too aggressive.

To keep the oxidation problem under control and reduce it, the general rule is to prevent silver jewels from coming into contact with detergents, creams, fragrances and water, in particular swimming pool water (chlorinated) and sulfur springs, and it is advisable to regularly wipe the jewel surface gently with a soft cloth, being particularly careful with the finish and gemstones, if present.
For more information, consult our
FAQ
. For any questions, contact our
Customer Care
.
Variations
The Collection

Stone details

Stone details

Jewel Fitting

Style Match

You may also like