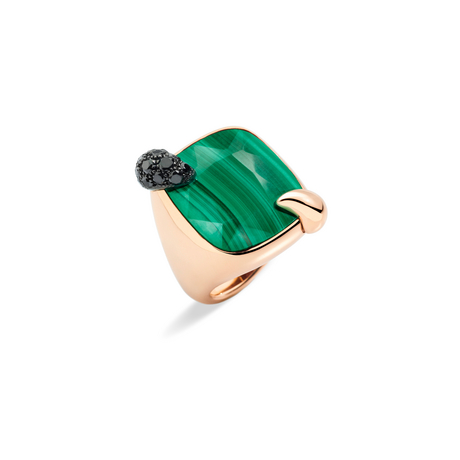 Ring Ritratto
Celebrating Mother Nature's genius, each Ritratto stone has been hand-selected for a singular beauty, then sculpted and framed like a work of art. Here featuring the Malachite version.
RING IN 18K ROSE GOLD, 1 MALACHITE 21 CT, 19 BLACK DIAMONDS TREATED 0.6 CT
This item is available for purchase in our Boutiques.
Variations
The Collection

Stone details

Stone details

Jewel Fitting

Style Match

You may also like
QUARTZ
Malachite
Malachite is a basic copper carbonate, characterized by the repeated alternation of layers of different green hues, arranged in radial or parallel form. The name derives from the Greek term malàche, which means mallow, due to its distinctive green color, which is similar to the color of the mallow plant's leaves.