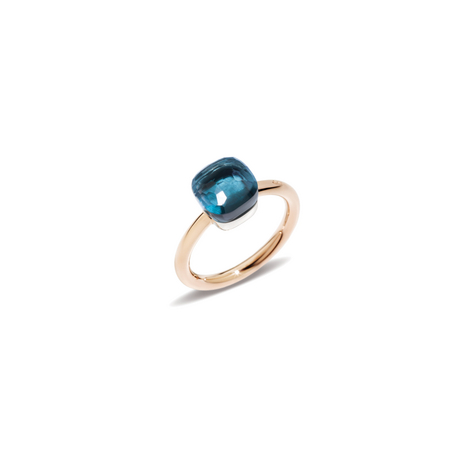 Ring Nudo
The smallest version of the brand's most iconic ring, Nudo Petit, features a more subtle design characterised by a compact 'nude' stone available in a variety of colours. It can be easily mixed and matched with the other stone sizes.
NUDO PETIT RING IN ROSE GOLD AND WHITE GOLD WITH LONDON BLUE TOPAZ
This item is available for purchase in our Boutiques.
Variations
The Collection

Stone details

Stone details

Jewel Fitting

Style Match

You may also like
TOPAZ
According to Roman philosopher, Pliny the Elder, the word topaz was born from its association with the island of Topazos, in the Red Sea. Another theory suggests the word as stemming from the Sanskrit tapas meaning 'heat, fire'. Presenting a glassy polish, the coloured crystals of topaz are actually transparent. Different varieties may include yellow topaz with hues ranging from gold to orange known as sherry or imperial, and the mesmerising blue topaz.