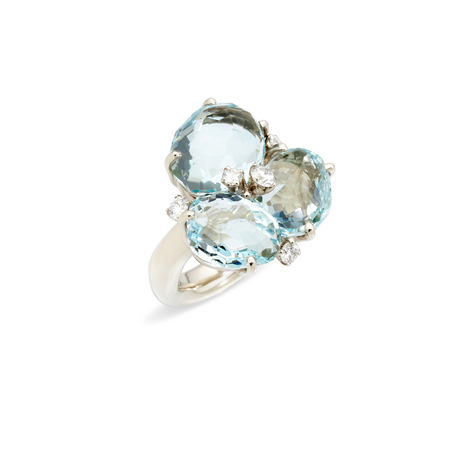 Ring Bahia
Soft, rounded stones with an irregular cut are accompanied by smaller, contrasting gems and set on a natural-looking shank.
RING IN WHITE GOLD WITH AQUAMARINE AND DIAMONDS (CT 0.47)
Clean softly from time to time and place your jewel separately in individual soft and clean sachets or cases, in a dry place, away from heat sources and generally sheltered from any agents that could damage them.

Normal everyday use and external agents such as atmospheric agents, cosmetic products, moisture and transpiration coming into contact with jewels may lead to reducing the luster of gemstones and diamonds, as well as of gold surfaces.

The cleaning process may be more risky for jewelry set with gemstones or diamonds; thus, it is advisable to turn to professional cleaning.

Especially when dealing with gemstones of an organic nature (like coral or jet) or with a porous structure (like turquoise, opal and chalcedony), the general rule is to avoid contact with external agents, such as fragrances, creams, sudden changes in temperature, moisture, chlorine, smoke, etc., that may cause irreversible damage.
For more information, consult our
FAQ
. For any questions, contact our
Customer Care
.
This item is available for purchase in our Boutiques.
Variations
The Collection

Stone details

Stone details

Jewel Fitting

Style Match

You may also like
BERYL
AQUAMARINE
In its pure state beryl is colorless, although the addition of chemical elements allows for different varieties to come to life. As one of the most popular precious stones used in traditional jewelry, the aquamarine variant can be identified by its different shades of blue. From almost colorless to pale to bright marine blue hues, the more intense the color the greater the value. Other color variants include light green, red or clear.