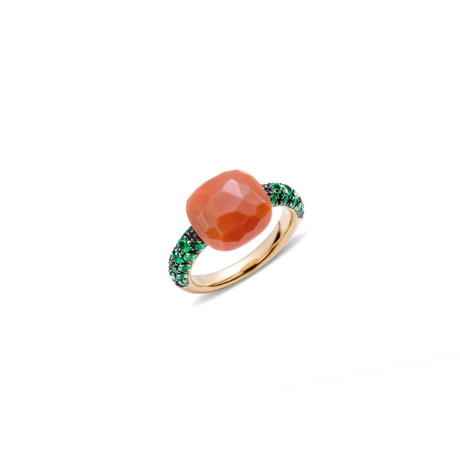 Ring Capri
Reminiscent of the the flourishing nature and intense volcanoes decorating the Mediterranean panorama, the colours of Capri match to create unexpected contrasts.
RING IN ROSE GOLD WITH CORAL AND TSAVORITES (CT 0.84)
Clean softly from time to time and place your jewel separately in individual soft and clean sachets or cases, in a dry place, away from heat sources and generally sheltered from any agents that could damage them.

Normal everyday use and external agents such as atmospheric agents, cosmetic products, moisture and transpiration coming into contact with jewels may lead to reducing the lustre of gemstones and diamonds, as well as of gold surfaces.

The cleaning process may be more risky for jewellery set with gemstones or diamonds; thus, it is advisable to turn to professional cleaning.

Especially when dealing with gemstones of an organic nature (like coral or jet) or with a porous structure (like turquoise, opal and chalcedony), the general rule is to avoid contact with external agents, such as fragrances, creams, sudden changes in temperature, moisture, chlorine, smoke, etc., that may cause irreversible damage.
For more information, consult our
FAQ
. For any questions, contact our
Customer Care
.
Variations
The Collection

Stone details

Stone details

Jewel Fitting

Style Match

You may also like
CORAL
Coral was traditionally fished at the bottom of the sea during daylight hours. Due to today's scarcity of top-quality coral Pomellato has begun sourcing it in a more conscientious manner, modifying the process by seeking out Corallium rubrum and Corallium japonicum at depths of 3 to 3,000 metres. Prime sourcing areas include the Mediterranean sea, seas around Japan, Taiwan, the Malay Archipelago, the Red Sea, the Bay of Biscay and the Canary Islands. Coral is an organic material. Before crafting and polishing, its appearance is opaque and profusely chipped which is why it should not bear cracks, flowering, marks or holes in order for it to be considered good quality coral.