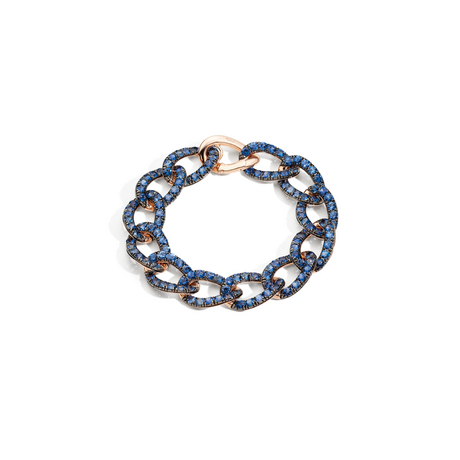 Bracelet Tango
A stunning chain bracelet, completely encrusted with colored gems except for one, rose gold link that encases the clasp.
BRACELET IN POLISHED AND BURNISHED ROSE GOLD, BLUE SAPPHIRES CT 18.86 CM 18
This item is available for purchase in our Boutiques.
Variations
The Collection

Stone details

Stone details

Jewel Fitting

Style Match

You may also like
CORUNDUM
BLUE SAPPHIRE
Blue sapphire is among the most renowned corundum varieties. The coloration of blue sapphire depends on the amount of iron and titanium present, and can greatly vary ranging from bright to rich blue and from dark to almost black blue. Needle-shaped rutile inclusions are quite typical as is the presence of irregular cavities and off-white fluid.