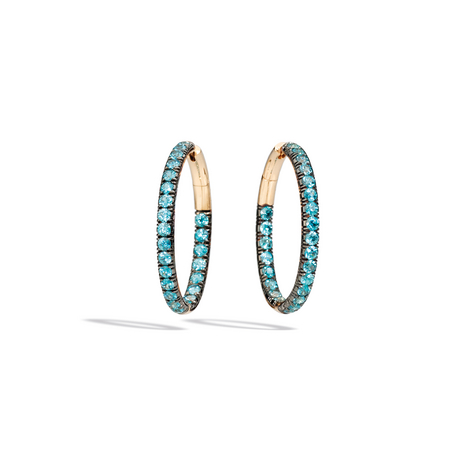 Earring Tango
A pair of tubular over shaped earrings, encrusted with colored gems on the outside, and polished rose gold inners.
EARRING IN POLISHED AND BURNISHED ROSE GOLD, BLUE ZIRCONS CT 8.25
Variations
The Collection

Stone details

Stone details

Jewel Fitting

Style Match

You may also like
ZIRCON
Zircon holds the title of one of the oldest gems found on Earth and is therefore considered an extremely rare natural material. Even though the name apparently originates from the Arabic word 'zarkun' (red) or from the Persian 'zargùn' (golden yellow), the zircon gemstone exists in multiple hues: colourless, yellow, red, orange, brown, blue, champagne and green. This gem is also characterised by extraordinary brightness and few inclusions and is capable of creating a mosaic effect similar to that caused by diamonds when shining in direct light.