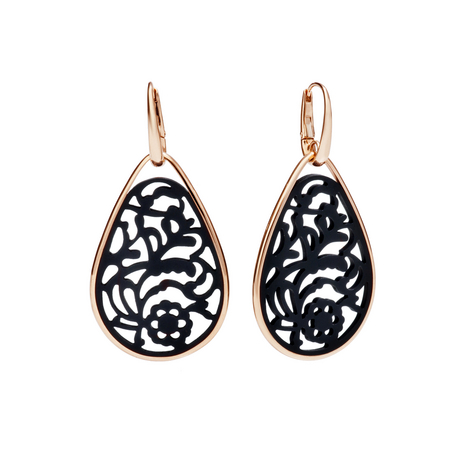 Earrings Victoria
Light and stylish, these drop earrings accentuate the delicacy of rose gold with an inlaid floral pattern in black, white and red.
EARRING IN ROSE GOLD WITH JET
Clean softly from time to time and place your jewel separately in individual soft and clean sachets or cases, in a dry place, away from heat sources and generally sheltered from any agents that could damage them.

Normal everyday use and external agents such as atmospheric agents, cosmetic products, moisture and transpiration coming into contact with jewels may lead to reducing the lustre of gemstones and diamonds, as well as of gold surfaces.

The cleaning process may be more risky for jewellery set with gemstones or diamonds; thus, it is advisable to turn to professional cleaning.

Especially when dealing with gemstones of an organic nature (like coral or jet) or with a porous structure (like turquoise, opal and chalcedony), the general rule is to avoid contact with external agents, such as fragrances, creams, sudden changes in temperature, moisture, chlorine, smoke, etc., that may cause irreversible damage.
For more information, consult our
FAQ
. For any questions, contact our
Customer Care
.
This item is available for purchase in our Boutiques.
Variations
The Collection

Stone details

Stone details

Jewel Fitting

Style Match

You may also like
JET
Jet is a material of organic origin obtained from clusters of prehistoric trees that date back more than 60 million years. The term jet is still used nowadays to de¬signate the particular black hue typical of the material. Colourings vary from dark brown to black with a waxy matte finish, and often present visible stratification.