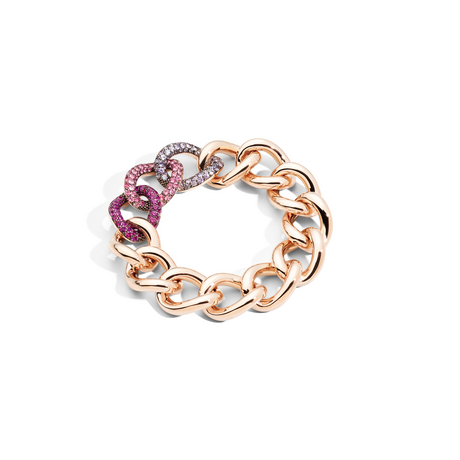 Bracelet Tango
A bold chain design that elegantly alternates rose gold links with colored gem-encrusted links, for an for a delicate, fading effect.
BRACELET IN ROSE GOLD AND BURNISHED SILVER, PURPLE SAPPHIRES PINK SPINELS RUBIES CT 5.83
This item is available for purchase in our Boutiques.
Variations
The Collection

Stone details

Stone details

Jewel Fitting

Style Match

You may also like
SPINEL
The noble spinel, simply known as spinel, apparently derives its name from either the Greek term 'spinter' (spark) due to the gem's flamboyant colour or from the Latin 'spina' (thorn) for the triangular appearance of its crystals. Its colours range from red to blue, which is why it is often confused with the ruby and the blue sapphire. As the popular story has it, the red stone set in the British Imperial State Crown historically known as 'the ruby of the Black Prince' is, in fact, a spinel. The red version is very shiny and free of inclusions, and it presents traces of chromium and tones ranging from deep vibrant red to light red with orange hues. The blue variant owes its colour to the presence of iron and may take on an intense blue shade.