New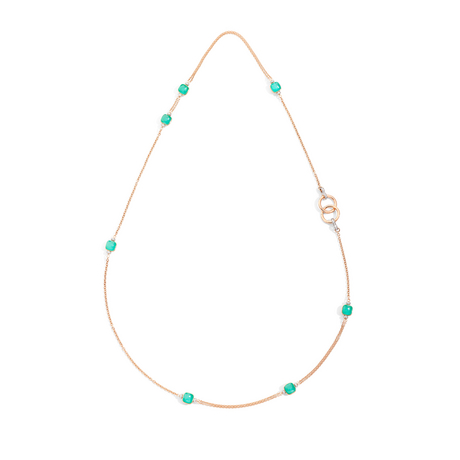 Nudo sautoir necklace
Pomellato adds a beautiful new hue and diamonds to the Nudo Deep Blue range of jewels. The joy of colour is at the heart of each Nudo jewel, and the new sea-blue stone doublet captures the bliss of the mesmerising and ever-changing hues of a sun-drenched Mediterranean shore. The necklaces complement the relaxed, barefoot chic Nudo look: a luxurious seven-stone sautoir which can be worn full length, doubled up or at different lengths.
Sautoir necklace in 18K rose and white gold, with 154 diamonds (≈ 1.1 ct) and 7 Sky blue topaz and chrysoprase (≈ 42 ct)
This item is available for purchase in our Boutiques.
Variations
The Collection

Stone details

Stone details

Jewel Fitting

Style Match

You may also like
TOPAZ
According to Roman philosopher, Pliny the Elder, the word topaz was born from its association with the island of Topazos, in the Red Sea. Another theory suggests the word as stemming from the Sanskrit tapas meaning 'heat, fire'. Presenting a glassy polish, the coloured crystals of topaz are actually transparent. Different varieties may include yellow topaz with hues ranging from gold to orange known as sherry or imperial, and the mesmerising blue topaz.