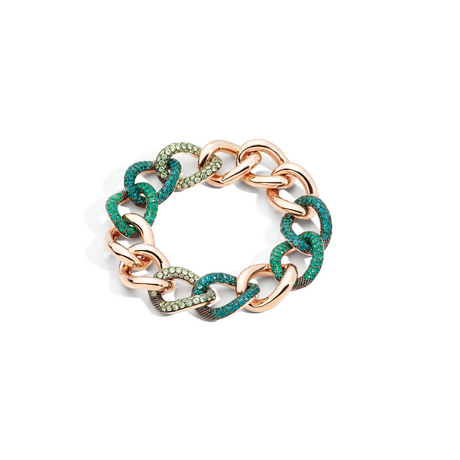 Bracelet Tango
A bold chain design that elegantly alternates rose gold links with colored gem-encrusted links, for an for a delicate, fading effect.
BRACELET IN ROSE GOLD AND BURNISHED SILVER, DEMANTOID COLOUR CHANGE GARNET EMERALDS CT 11.55 CM 19
This item is available for purchase in our Boutiques.
Variations
The Collection

Stone details

Stone details

Jewel Fitting

Style Match

You may also like
COLOUR CHANGE GARNET
As the term 'colour change' suggests, this gemstone possesses the rare optical effect known as iridescence. This quality consists of the crystal's ability to change colour depending on the type of light shining on it. Under sunlight the garnet appears blue-green, whereas it takes on a violet-purple shade when subject to artificial light.